Spent the weekend camping on the middle Rogue with the family. We even had some time to enjoy some fishing. Took my brother-in-law Stephen and my Dad on Saturday morning to see if we could get Stephen into his first salmon. Lots of fish showing, but not going. We eventually found one that decided to chomp on the kwikfish.
Stephen Wittenberg with his Rogue River Chinook: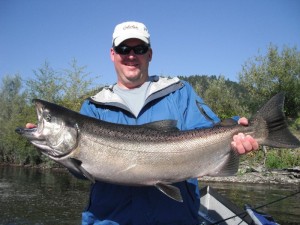 Sunday I took my wife Jennifer and my sister Diane out for a quick float in the morning. My sister went bendo 15 seconds after putting her plug out and the fight was on. We slid the net under her fish. My wife released 2 salmon at boatside that were smaller grade as well.
Here is Diane with her salmon: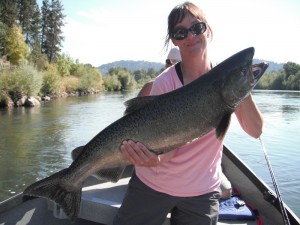 A great weekend with the family, with some productive fishing thrown in for good measure!!
Tight Lines!!