Got a very nice message today from my customer in Washington who recently received his Reel Tech Custom.
"The most amazing rod I have ever fished John, the performance is better than I imagined. First time I take it out and I got this nice chrome steelhead today, Im beyond happy……unbelievable sensitivity and its got great mojo…..check is in the mail for another one!"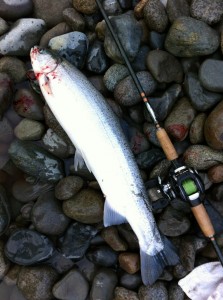 His words and the photo made my day. I love my customers…. they waste no time breaking in their new rods in style, and keep me busy 🙂
Tight lines!!