The Reel Tech is proud to present Chris Blanchard, Carlin Sage, Kenny James, and Garrett James of the NWKFishing Crew, their own Reel Tech Custom Fishing Rods. The Reel Tech is also a proud sponsor of NWKFishing.blogspot.com. I know these rods will be in very capable hands and is destined to a life of hard use by these gentlemen. Be sure to watch for upcoming NWKFishing video episodes where you are sure to see these beautiful custom rods in the hands of the NWK crew in full BENDO!!. Thank you for all you do Chris, Carlin, Kenny, and Garret. Your passion for fishing and the entertainment you provide through your videos is FANTASTIC!!
7′ graphite 8-17# blanks, split grip carbon fiber handles, American Tackle AERO comfort reel seats, Rubber Butt Cap, American Tackle Ring Lock A-Frame spinning guides, Steelhead decal, wrapped in NWK black main wraps with white trim.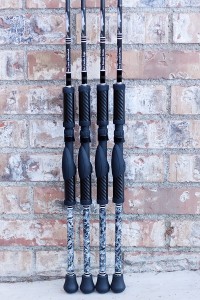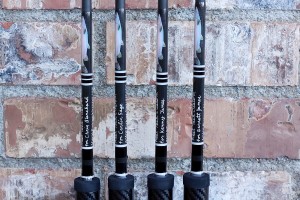 The custom NWK colored marbling in the split grip sections put a defining signature on these great sticks!